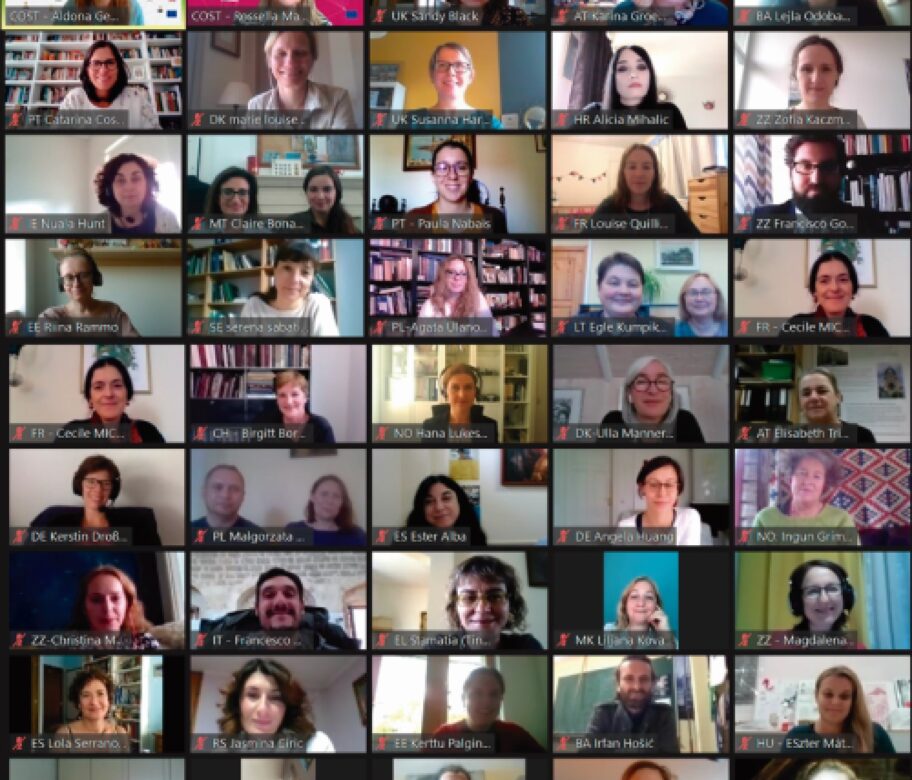 Team
The EuroWeb team currently includes members from 32 participating countries (Albania [AL],  Austria [AT],  Belgium [BE], Bosnia and Herzegovina [BA], Czech Republic [CZ],   Denmark [DK],  Estonia [EE],  Finland [FI],  France [FR],  Germany [DE], Greece [EL],  Hungary [HU],  Iceland [IS],  Ireland [IE],   Israel [IL],  Italy [IT],  Latvia [LV],  Lithuania [LT],  Malta [MT],  Netherlands [NL],  North Macedonia [MK],  Norway [NO],   Poland [PL],  Portugal [PT],   Romania [RO],  Serbia [RS],  Slovakia [SK],   Spain [ES],   Sweden [SE],  Switzerland [CH],   Turkey [TR],  United Kingdom [UK]) and a Near Neighbour Country (Tunisia [TN]).
Prospective participants who whish to join the EuroWeb Action are invited to follow the instructions on the website Action CA19131 – COST.
All participants who request to join EuroWeb should also register on the e-COST platform, as this will be a key tool for their participation in the Action.
Albania
Management Committe Delegate:

Erilda Selaj
(Studio House Kadare)
erildaselaj@gmail.com

Prof Etleva DEMOLLARI
(National Museum of Secret Surveillance)
etlevacani@yahoo.fr

Austria
Management Committee Delegates:

Elisabeth Trinkl
(Institute of Classics)
elisabeth.trinkl@uni-graz.at

Karina Grömer
(Natural History Museum - Vienna)
karina.groemer@nhm-wien.ac.at
Belgium
Management Committe Delegates:

Ms Judith GORIS
(KIK-IRPA)
judith.goris@kikirpa.be

Dr Natalia ORTEGA SAEZ
(Universiteit Antwerpen)
natalia.ortegasaez@uantwerpen.be
Bosnia and Herzegovina
Management Committee Delegates:

Irfan Hosic
(University of Bihac, Faculty for Technical Engeeniring, Department for Textile Design)
irfan.hosic@bih.net.ba

Lejla Odobasic Novo
(International Burch University)
lejla_odobasic@hotmail.com
Czech Republic (CZ)
Management Committee Delegates:

Adnan Mazari
(Technical University of Liberec)
adnanmazari86@gmail.com

Helena Brezinova
(Institute of Archaeology of the Czech Academy of Science, Prague)
brezinova@arup.cas.cz

Team Members:

Milena Bravermanova
(Institute of Archaeology of the Academy of Science, Prague)
Denmark
Management Committee Delegates:

Marie Louise Bech Nosch
(Copenhagen University)
nosch@hum.ku.dk

Ulla Mannering
(National Museum of Denmark)
ulla.mannering@natmus.dk

Team Members:

Anne Louise Bang
(VIA University College)

Cecilie Brøns
(Ny Carlsberg Glyptotek)

Eva Andersson Strand
(Centre for Textile Research, University of Copenhagen)

Susanne Lervad
(Centre for Textile Research, University of Copenhagen)
Estonia
Management Committee Delegates:

Kerttu Palginõmm
(Art Museum of Estonia Foundation)
kerttu.palginomm@ekm.ee

Riina Rammo
(University of Tartu)
riina.rammo@ut.ee
Finland
Management Committee Delegates:

Krista Vajanto
(University of Helsinki)

Sanna Lipkin
(University of Oulu)
sanna.lipkin@oulu.fi

Team Members:

Jenni Suomela
(University of Helsinki)

Tiina Kuokkanen
(University of Oulu)

Tuija Kirkinen
(University of Helsinki)
France
Management Committee Delegates:

Cécile Michel
(CNRS)
cecile.michel@cnrs.fr

Louise Quillien
(CNRS)
louise.quillien@gmail.com

Team Members:

Anne-Caroline Rendu Loisel
(Université de Strasbourg)

Philippe Abrahami
(Université de Lille)
Greece
Management Committee Delegates:

Eleni Papastravou
(Archaeological Service)
epapastavrou@yahoo.gr

Tina Boloti
(Academy of Athens)
tinaboloti@yahoo.gr

Team Members:

Christina Margariti
(Directorate of Conservation, Hellenic Ministry of Culture)

Chrysoula Kapartziani
(National and Kapodistrian University of Athens)

Dimitra Andrianou
(National Hellenic Research Foundation)

Kalliope Sarri
(Saxo Institute, University of Copenhagen)

Stella Spantidaki
(Hellenic Centre for Research and Conservation of Archaeological Textiles - ARTEX)
Spain
Management Committee Members:

Dolores Serrano Niza
(Universidad de La Laguna)
dserrano@ull.edu.es

Esther Alba Pagán
(Universitat de València)
esther.alba@uv.es

Team Members:

Cristina Portalés Ricart
(Universitat de València Estudi General - UVEG)

Lola Pons
(Universidad de Sevilla)
Netherlands
Management Committee Delegates:

Geert Kessels
(LAB1100)
geert@lab1100.com

Pim Van Bree
(LAB1100)
pim@lab1100.com

Team Members:

Anique Hamelink
(University of Amsterdam)

Ireland
Management Committee Member:

Nuala Hunt
(School of Education National, College of Art and Design)
huntn@staff.ncad.ie
Iceland
Management Committee Delegate:

Meghan Korten
(University of Iceland)
mak77@hi.is
Israel
Management Committee Delegates:

Aaron Sprecher
(Technion Israel Institute of Technology)
asprecher@technion.ac.il

Tamar Nix
(Technion Israel Institute of Technology)
tamar.nix@campus.technion.ac.il

Team Members:

Zvi Koren
(Shenkar College of Engineerng, Design and Art)
Lithuania
Management Committee Delegates:

Eglé Kumpikaité
(Kaunas University of Technology)
egle.kumpikaite@ktu.lt

Virginija Rimkuté
(Club for craft reconstruction "The Court Artisans")
v.rimkute@gmail.com

Team Members:

Daiva Milašienė
(Kaunas University of Technology)
Latvia
Management Committee Delegate:

Ieva Pigozne
(University of Latvia)
ieva.pigozne@lu.lv
North Macedonia
Management Committee Delegates:

Liljana Kovachovska
(Museum of the Republic of North Macedonia)
bajtl@hotmail.com

Nade Genevska Bracic
(NI Institute and museum Bitola)
nadegb@gmail.com
Malta
Management Committee Delegate:

Claire Bonavia
(Heritage Malta)
claire.bonavia@gov.mt
Germany
Management Committee Delegates:

Angela Huang
(European Hansemuseum)
alhuang@fgho.eu

Kerstin Droß-Krüpe
(Universität Kassel)
Kerstin.dross-kruepe@uni-kassel.de

Team Members:

Michael Rothmann
(Leibniz Universität Hannover)

Petra Linscheid
(Rheinische Friedrich-Wilhelms-Universität Bonn)

Nathalie Rudolph
(Universität Hamburg)
Norway
Management Committee Delegates:

Hana Lukesova
(The University Museum of Bergen)
hana.lukesova@uib.no

Ingun Grimstad Klepp
(OsloMet - Storbyuniversitetet)
ingunk@oslomet.no
Poland
Action Chair:

Agata Ulanowska
(University of Warsaw)

Management Committee Delegate:

Małgorzata Grupa
(Nicolaus Copernicus University)
m.grupa@wp.pl

Team Member:

Joanna Słomska-Bolonek
(Institute of Archeology and Ethnology of the Polish Academy of Sciences)

Magdalena Wozniak
(Polish Centre of Mediterranean Archaeology, University of Warsaw)

Zofia Kaczmarek
(Institute of European Culture)
Portugal
Management Committee Delegates:

Catarina Costeira
(Municipality of Sintra; UNIARQ – University of Lisbon)
catarinacosteira@gmail.com

Paula Nabais
(LAQV - Requimte; NOVA University of Lisbon)
p.nabais@campus.fct.unl.pt

Team Members:

Adelaide Clemente
(CE3C, University of Lisbon)

Alexandre Gonçalves
(Archaeological Museum of São Miguel de Odrinhas; UNIARQ – University of Lisbon)

Ana Amor Santos
(CEAACP – University of Coimbra)

Ana Catarina Basílio
(University of Algarve)

Ana Catarina Sousa
(UNIARQ – University of Lisbon)

Ana Claro
(NOVA University of Lisbon)

Ana Manhita
(HERCULES Laboratory - University of Évora)

Ana Margarida Arruda
(UNIARQ – University of Lisbon)

Ana Maria Silva
(University of Coimbra; CIAS; UNIARQ; CEF - University of Coimbra)

Ana Sofia Antunes
(UNIARQ – University of Lisbon)

André Texugo
(UNIARQ – University of Lisbon)

Andrea Martins
(UNIARQ – University of Lisbon)

António Carlos Valera
(ICArHEB - Interdisciplinary Center for Archaeology and Evolution of Human Behaviour)

Artur Q. Mateus
(School of Arts and Humanities of the University of Lisbon)

Carmo Serrano
(National Institute of Agrarian and Veterinarian Research)

Carlos Pereira
(UNIARQ - University of Lisbon)

Catarina Alves
(Municipality of Lagos; UNIARQ – University of Lisbon)

César Neves
(UNIARQ – University of Lisbon)

Cristina Barrocas Dias
(HERCULES Laboratory - University of Évora)

Daniel Van Calker
(UNIARQ - Centre for Archaeology of the University of Lisbon)

Eduardo Porfírio
(Municipality of Sintra; CEAACP – University of Coimbra)

Elisa de Sousa
(UNIARQ – University of Lisbon)

Elsa Luís
(UNIARQ – University of Lisbon)

Francisco B. Gomes
(UNIARQ, University of Lisbon)

Frederico Agosto
(University of Lisbon)

Helena Loermans
(LabO)

Íris Dias
(UNIARQ – University of Lisbon)

Joana Sequeira
(Lab2PT – University of Minho)

João Pimenta
(Municipality of Vila Franca de Xira; UNIARQ – University of Lisbon)

Joaquina Soares
(Museum of Archaeology and Ethnography of the District of Setúbal; UNIARQ – University of Lisbon)

Lídia Baptista
(CEAACP – University of Coimbra)

Luís Mendonça de Carvalho
(NOVA University of Lisbon)

Mariana Diniz
(UNIARQ – University of Lisbon)

Maria João Melo
(LAQV - Requimte; NOVA University of Lisbon)

Marta Miranda
(Municipality of Mafra)

Natércia Teixeira
(University of Oporto)

Nuno Belino
(University of Beira Interior)

Raquel Vilaça
(CEAACP – University of Coimbra)

Rui Mataloto
(Municipality of Redondo)

Sérgio Gomes
(CEAACP – University of Coimbra)

Sofia Pinto Correia
(Independent Researcher)

Teresa Ferreira
(HERCULES Laboratory - University of Évora)

Teresa Rita Pereira
(Museum of Archaeology and Ethnography of the District of Setúbal; UNIARQ – University of Lisbon)

Vanessa Otero
(NOVA University of Lisbon)

Victor S. Gonçalves
(UNIARQ – University of Lisbon)
Romania
Management Committee Delegates:

Florica Matau
(Alexandru Ioan Cuza University of Iasi)
floricel1980@yahoo.com

Irina Petroviciu
National Museum of Romanian History
(petroviciu@yahoo.com)

Team Members:

Alina Iancu
(University of Bucharest)

Liviu Iancu
(The Institute for Advanced Studies in Levant Culture and Civilization of Bucharest)
Serbia
Management Committee Delegate:

Jasmina Ciric
(Faculty of Philology and Arts, University of Kragujevac)
jasmina.ciric@filum.kg.ac.rs

Team Members:

Branislav Cvetković
(Regional Museum, Jagodina - Institute for Balkan Studies, Serbian Academy of Sciences and Arts, Belgrade)

Sanja Pajic
(Faculty of Philology and Arts - University of Kragujevac)
Slovakia
Management Committee Delegate:

Tereza Štolcová
(Institute of Archaeology of the Slovak Academy of Sciences)
tereza.stolcova@gmail.com
Switzerland
Management Committee Delegates:

Birgitt Borkopp-Restle
(Universität Bern)
birgitt.borkopp@ikg.unibe.ch

Elodie Bauer
(Université de Fribourg)
elodie.bauer@hotmail.com

Team Members:

Corinne Mühlemann
(University of Fribourg)

Véronique Dasen
(University of Fribourg)
Sweden
Management Committee Delegate:

Serena Sabatini
(University of Gothenburg)
serena.sabatini@archaeology.gu.se
Turkey
Management Committee Delegates:

Deniz Sari
(Bilecik Şeyh Edebali Universitesi Fen - Edebiyat Fakultesi Arkeoloji Bölümü)
deniz.sari@bilecik.edu.tr

Recep Karadag
(Istanbul Aydin University)
recepkaradag@aydin.edu.tr

Team Members:

Handan Üstündağ
(Anadolu Üniversitesi Edebiyat - Fakültesi Arkeoloji Bölümü)
Hungary
Management Committee Delegates:

Eszter Matyas
(Hungarian National Museum)
eszter.matyas.1986@gmail.com

Rebeka Nagy
(Museum of Applied Arts)
nagy.rebeka@imm.hu

Team Members:

Anikó Moór
(Hungarian Museum of Applied Arts)

Réka Semsey
(Iparművészeti Múzeum (Museum of Applied Arts)
United Kingdom
Management Committee Delegates:

Sandy Black
(University of the Arts London)
s.black@fashion.arts.ac.uk

Susanna Harris
(The University of Glasgow)
susanna.harris@glasgow.ac.uk

Team Members:

Jane Malcolm-Davies
(University of Copenhagen)
jane@jmdandco.com

Italy
Management Committee Delegate:

Francesco Meo
(University of Salento)
francesco.meo@unisalento.it

Team Members:

Francesca Scotti
(Università Cattolica del Sacro Cuore di Milano)

Gabriella Longhitano
(University of Catania)

Maria Emanuela Alberti
(University of Florence)